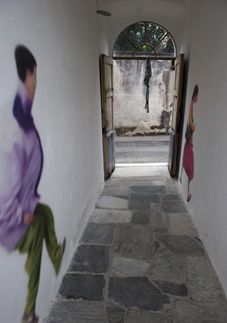 Who we are
Studi Aperti is a project of the Asilo Bianco Cultural Association of Ameno, on Lake Orta.
The ambitious, fascinating project aims to give life to a wonderful source of cultural growth, rooted in the territory between Lake Orta and Lake Maggiore. It encourages open dialogue and the exchange of experiences, with an emphasis on all types of artistic experimentation.
Asilo Bianco has identified a means for understanding and interpreting reality within the world of contemporary art and organizes cultural events and training sessions accordingly. The association also participates in integrated projects that aim to enhance territorial development.
The curators of the Studi Aperti festival are Giorgio Caione and Francesca Gattoni for the Shows and Art sections, Elena Bertinotti for the Architecture section, and Davide Vanotti for the Literature section.